Tom & Sue Weidlich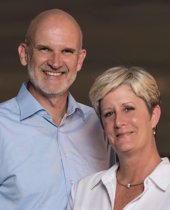 Phone:

239-564-5692

Fax:

(239) 263-2079
3066 Tamiami Trail North, Suite 202, Naples, FL 34103
Although we have called Naples our home for the past 23 years, our backgrounds are as diverse as the clientele we work with.

Toms career has always revolved around customer service. In Tom's early professional life working in the health services field, Tom learned the importance of client satisfaction, and following through on whatever promises were made. Being self employed and running his own company for many years trained Tom to be diligent, resourceful and tenacious. Using these same skills in his many years of real estate sales, it is with unwavering dedication that Tom tackles every detail of a real estate transaction no matter how big or small. It would be to no ones surprise that Tom has been awarded the 5 star "Best in Client Satisfaction" for the past 10 years.

Sue's professional career also had customer service roots, but she made her big splash in Marketing and Sales. Using her knowledge of all different advertising media, target marketing, assessing customer needs, market research and internet marketing, Sue is highly qualified to promote real estate sales in a most effective manner.

We are bilingual in German and English, and have had the opportunity to live in a number of different parts of the world. As such, we are uniquely qualified to understand and accommodate a variety of international clientele. As a dynamic and enthusiastic team, we work full time establishing clients for life by providing superior service backed with the highest level of integrity and knowledge. Our combined customer service, marketing and business expertise ensures our clients a smooth and stress-free real estate transaction.
Tom & Sue Weidlich Featured Listings